Hello, and welcome to the eighth edition of "Newsletter from the Newsroom." 
Happy February! I hope all are well and settling into the new year.  Here's what editor's would like to spotlight so far in 2023. 
—Bridget Higdon, Vermont managing editor
Here in Las Vegas, we have had a strong start to 2023, with several strong newspapers and great digital results over the past six weeks. Our most significant story deals with Las Vegas' desire to build a new fire training facility intended on preventing an incident like the one we had last spring, which turned into the largest fire in state history. The story on the city's efforts to get the facility funded in the Legislature garnered a lot of interest across the state, and we received word that our story was seen in some form by Vice President Kamala Harris, who reached out to state leaders about the effort. I am also attaching our front page design featuring that story. 
In sports, we have been fortunate to have a lot of big stories come out over the past few weeks, and our sports editor Gabe Myers has done a great job telling all of these stories. This year's biggest stories so far include a great one he wrote about the smallest school within our coverage area winning one of the toughest basketball tournaments in the region, a year after finishing in last place in the same tournament. 
This past week, he also got all the details about the Athletic Director at the local university resigning, and the current president's plan to not replace him due to his impending retirement, which stirred up questions about the dedication of the university to its athletic programs.
It has been a great start to the year for us here in Las Vegas, and we look forward to continuing to put these great stories together as the year moves along. 
—Phil Scherer, editor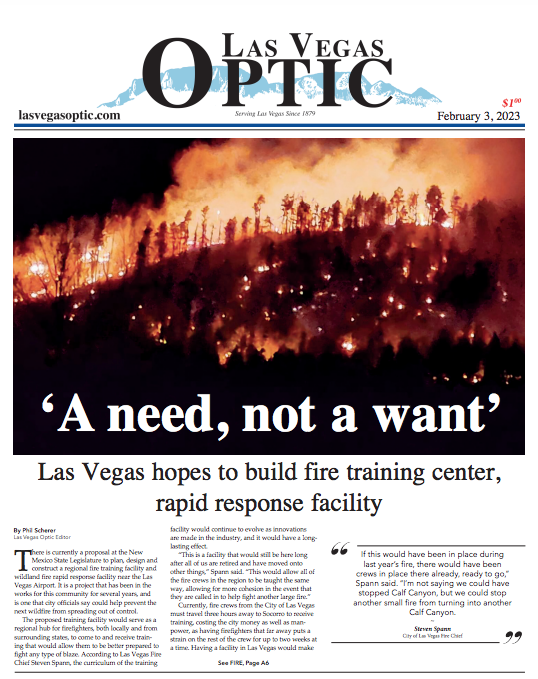 It's been a big month out here in the greater Phoenix area as we were right in the middle of all the news coverage for Super Bowl LVII, the WM Phoenix Open and Barrett-Jackson Scottsdale car auction in town. When we weren't covering these high-profile events we redesigned our CITYSunTimes news website to better reflect the boost we've made in our daily online news coverage at citysuntimes.com to compliment our monthly print publication for the first time in 20 years.
The excitement carried over to our Queen Creek Sun Times when our native son almost made the hometown Super Bowl in his rookie QB season and we covered him all the way, but this was our first feature on Brock Purdy of the San Francisco 49ers. This made hosting the Super Bowl this year even more exciting for everyone in town. The only let down was that he didn't receive the "Offensive Rookie of the Year" award at the NFL Honors ceremony in downtown Phoenix, but it was nice to have him back in town at the many events.
—Kelly Mixer, editor
Every year for the past 20-some years, the paper has recognized a local person who has made a tremendous impact in the community as "The Ripon Commonwealth Press Person of the Year." It always is a well-received piece among our readers. The honor comes as a surprise to the person receiving it as we talked to his/her loved ones and other people who know the person and the contributions they made. Many years ago, we also interviewed the person. But that stopped when one outstanding individual insisted he was not worthy of the honor or the attention and did not want to be named the person of the year. Here is the story we did on the 2022 Person of the Year, which ran in early January.
Our most-read story in the past couple months was about a local brewery who purchased a larger building across the street that just a few years ago appeared headed for demolition as a result of sitting vacant for 10-plus years and suffering extensive mold and vandalism. The building was purchased by an individual who has put a lot of time and money into revitalizing downtown Ripon and he and his team brought it back to usability with the hopes of it being a condo. The condo idea wasn't looking to be profitable, so they pivoted into selling it to the Knuth family for it to become a brewery. In less than 24 hours, the story garnered 7,500 page views — which is close to the population of Ripon and within a little more than a day it was our highest clicked in the past 365 days (and probably longer than that).
In December, the Ripon Area Fire District Fire Chief abruptly retired and the deputy chief and a captain followed the next week. We have continued to follow the slow-moving story since and I am guessing it will continue to be a story for months to come as the Ripon Area Fire District board looks into possible wrongdoings that may have led to the abrupt retirements/resignations. Here are some links to stories:
—Jonathan Bailey, editor
As an old dinosaur editor in Wisconsin, this has been one of those weeks which makes me believe that print continues to fight rumors of its extinction.
Here was my week in terms of my interactions with our printer:
1. Tuesday, Feb. 14, 3 p.m.—send the 40 inside pages of Verve women's magazine (joining the 4 color glossy pages sent a week earlier)
2. Tuesday, Feb. 14, 5:30 p.m.—send the 28 pages of this week's Tri-County News
3. Thursday, Feb. 16, 4 p.m.—send the 24 pages of the first section of this year's Kiel Progress Edition
4. Friday, Feb. 17, 3 p.m.—send the 24 pages of the second section of Kiel Progress
5. Friday, Feb. 17, 3 p.m.—begin drinking heavily (oh wait, that wasn't supposed to be in there)
I work with words and not numbers so my math might be off, but that's 116 pages of advertising revenue and editorial content sent off to the printer in a matter of 72 hours. By the way, the revenue for those three publications sent to the printer this week tops the $31K mark.
Two things are obvious about a week like this:
1. Work has been ongoing with these projects for a number of weeks, not just the 72 hours when it all comes together.
2. It takes a great team to make it happen. I'm talking everyone—from receptionists to our remote graphics people to reporters, editors and freelancers to sales people. With added sales staff this year our revenue numbers on Verve and Kiel Progress were both at their highest since 2020. Well done, everyone!
Now on to #5 listed above….
—Mark Sherry, editor
In the November election in Red Wing, a new city council won office, pledging to challenge spending decisions made by the previous more liberal majority. At the first council meeting of the year, Republican Eagle reporter Melissa Thorud was there, noting an immediate split on the council. She followed this up with interviews with all of the council members, asking if the new council could work together. Finally she got copies of a court decision fining members of the new majority for campaign finance violations. Within minutes of the penalized council members receiving the court order, Melissa was calling them, asking for comment. Several expressed amazement at how quickly she got the ruling. Here are her stories:
A treasured antique shop in downtown Hudson was threatened with eviction after a new owner bought the building where it had been for more than 30 years. Star-Observer reporter Hannah Coyle was talking with the building owner within an hour of the eviction notice being delivered. She posted a story with the store owners' reactions and those of the building owner. Comments from longtime customers came in on the story and the Facebook post. By the next morning, the building owner negotiated a deal with the antique shop owner so that it could stay. Was it Hannah's story that made the difference? Who knows, but he timing was highly suspect.
Food service in Hastings voted to strike after negotiations over a new contract reached a stalemate. Star Gazette reporter Charlie Swanson got a tip about the pending strike and had a story up online that afternoon. Swanson established contacts in the union but balanced his stories with comments from the district superintendent. A competitor newspaper in town trailed his initial reporting by two weeks. Since the first story, Swanson has been in front of it even as Minneapolis and St. Paul media began covering the story.
—Jim Johnson, editor
2 things to shine a spotlight on in Vermont:
1) Late last year, the Messenger started a new series called "Photos from the Archives." Reporter Josh Ellerbrock develops the paper's old film collection from each week 50 years ago, and we publish a selection in print and online. It's been the highlight of our days to get calls and emails from readers who can identify folks in the photos or share details of what was going on. 
Here's an example of a weekly photo gallery.
The column Josh wrote explaining the genesis of the project. 
The blog we're updating as readers identify people and places. 
This project is generating lots of reader engagement, and we're brainstorming how to capitalize on that. An exhibit at the local museum? A podcast? Then vs. now stories? So many possibilities! Kudos to Josh for kicking this off. 
2) Reporter Kate Vanni beat other newspapers in the state to a story about how Vermont schools are tackling the rise in popularity of ChatGPT, an AI program some students are using to complete assignments. 
Instead of a town-specific approach to this story, she took a regional view, comparing schools across counties and finding a wide spectrum of reactions from educators. While one district has blocked the program from its servers, another hasn't even begun to tackle the subject of AI. As always, she conducted thorough interviews and took fabulous portraits of those she spoke with. Well done Kate!
—Bridget Higdon, editor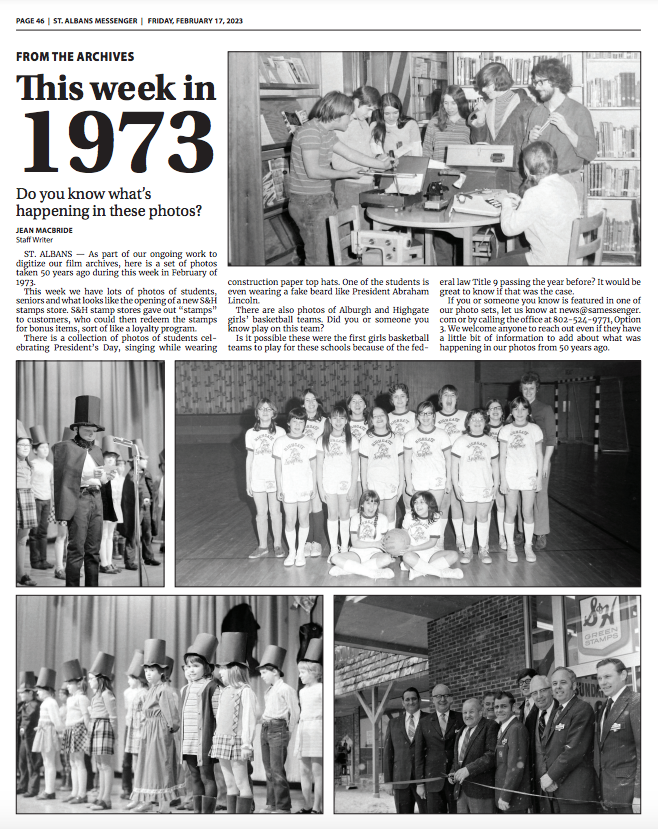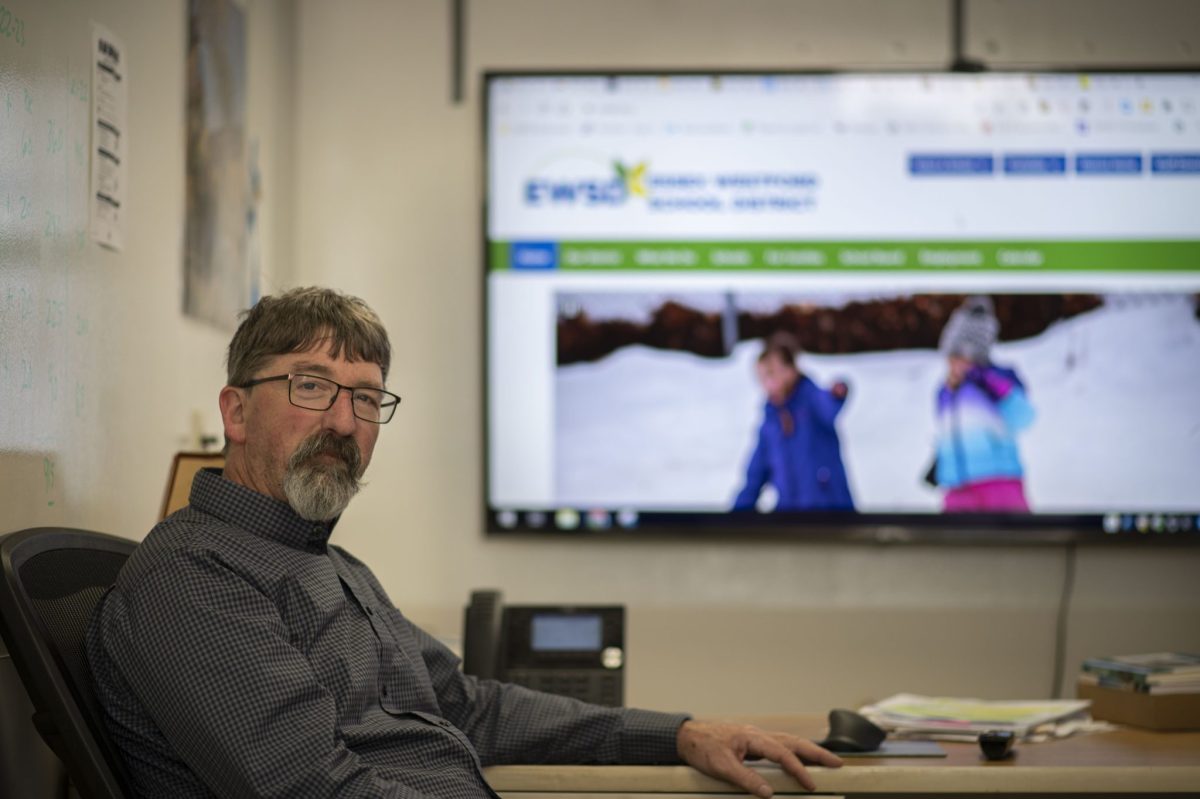 The director of Essex Westford School District's IT department said ChatGPT has been accessed by 1,170 users on the district's WiFi since Jan. 1.  
Thanks for reading! We'll see you in the spring.