Hello, and welcome to the fifth edition of "Newsletter from the Newsroom."
At a conference in Vermont last week, I attended a workshop on "Sustainable Leadership for the Long Term." As we enter these last weeks of summer, I thought I'd share the facilitator's tip for avoiding burnout: "remember your why." Take a moment to think about "why" you do this job, and talk about it with your coworkers, put it in a mission statement, infuse it into everything you do. Almost guaranteed, it'll bring a smile to your face and a new energy to your day.
Here's what editors were proud of in July. Happy reading!
—Bridget Higdon, Vermont managing editor
The coolest story we had in all of Arizona for July was one I got to tell about a local employee of one of our major utility companies here, Salt River Project (SRP), who was out working and came across one of many wild horses that roam our Salt River. The difference is that we've had a very strong monsoon season and this employee's good sense discovered the wild horse in need of rescue after getting stuck in the mud of the high waters. Her fast thinking saved its life!
July was all about our extreme monsoon season this year and the start of the new school year.
The other big story was in entertainment business news and about Caesars Sportsbook (now that sports betting is legal in AZ) and Guy Fieri's Kitchen + Bar opening at Chase Field in downtown Phoenix, where the Arizona Diamondbacks play. Guy Fieri loves Phoenix and has highlighted many of our restaurants here on his old Food Network show.
—Kelly Mixer, editor
There are two highlights that I would like to share this month from the Ripon Commonwealth Press/Express. The first relates to an international competition, the Red Bull Flugtag, that took place in Wisconsin this year and featured a team of Ripon High School graduates. Reporter Joe Schulz talked to the team beforehand for a preview story and then I attended the competition in Milwaukee and took pictures throughout the day. The Ripon team placed third out of 34 entries, and we ran a nice follow-up story the following week. In addition to the community interest it generated, we even sold $50 worth of photos that I took to other teams from around the state.
The other highlight is the job Joe Schulz did in covering the passing of a Ripon native who was crucial in helping to bring clean water to Panamanians through missionary work. Upon hearing about Father Wally's passing Thursday night, he reached out to a handful of people who knew him, sorted through hours of interviews, watched a documentary and did a great job of capturing his life and legacy. By reading the story, you would have never guessed that Joe Schulz knew very little, if anything, about the man that was well known in the community prior to working on the story.
—Jonathan Bailey, editor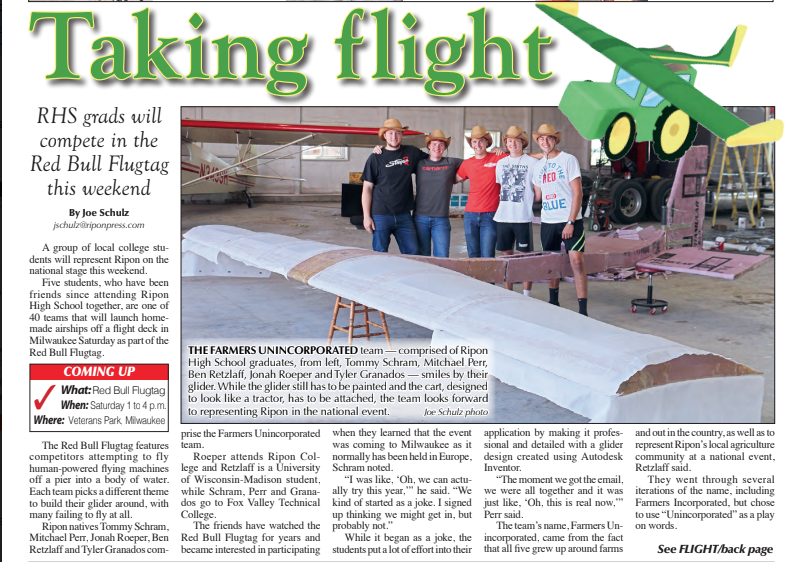 SHEBOYGAN
We continued our pageviews success in Sheboygan as we stayed above 200,000 pageviews for two months for the first time, finishing with 224,748 pageviews in July. The last time we hit 200,000 last year, it was a one-and-done month, so we're excited to have reached a threshold where we can now expect to be north of 200,000 on a regular basis. Sheboygan County is definitely a great place to be in the summertime, as our many photo galleries will show. Most of our content for the month consisted of event coverage galleries including Sheboygan's Independence Day Parade, Sheboygan Falls' Ducktona,  Plymouth Mill Street Festival, and Sheboygan's Hmong Summer Festival. I'm particularly proud of the variety we were able to offer both in event type and location to our readers, which really helps expand our coverage area.
MADISON
Ah, special sections — always keeping managing editors on their toes! In July, our entire team (sales, editorial and design) pulled together the Stoughton Fair Tab, which published in the July 14 edition. We started the project late and didn't think we would be able to pull off a full section, but every single person on our team cranked out the work, jumped in as necessary and helped get it done. I'd also really like to especially shout out our designer, Brad Allen, for his help getting this done. He's always the first one to be there to help me meet deadline on something, no matter what. I continue to be extremely proud of the teamwork we have in Madison!
Additionally, our sports team snagged some great ideas from this very monthly newsletter, creating a series where we catch up with former area athletes who have carried their careers beyond high school. We're still rolling out some of the details and graphics with this (stay tuned!), but this is a great example of the benefits that come from this monthly check-in from the entire editorial department! 
—Tara Jones, editor
In July in Vermont, we looked at how two issues at the federal and the state levels are playing out "hyper-locally" in our county.
After Roe v. Wade was overturned by the U.S. Supreme Court, Kate Barcellos dove head-first into finding out how Franklin County was reacting.  She spoke to activists on both sides of the opinion, regional coordinators and Planned Parenthood representatives.  As one source said: "We can't control what's going on in Washington, but we can control what's going on in Vermont."
This fall, retail cannabis sales will become legal in Vermont. Josh Ellerbrock wrote mini profiles on the growers in Franklin County who are preparing to participate in the new market. The story was a great way to put faces to an issue that's still controversial in our coverage area.
Last month, we also turned our attention to an annual event that happens in one of our smallest towns. It was a lesson that it's incredibly valuable to pop into those tiny population centers now and again. Jig in the Valley, an all-day musical event that raises money for the Fairfield Community Center, turned 30 years-old. 
I wrote a retrospective on the event's history
 ahead of time, and 
Josh followed up with a day-of photo gallery.
 The stories were highly read, and we received many messages of thanks (including an office pizza lunch) and a note attributing the high turnout and money raised to our coverage.
—Bridget Higdon, editor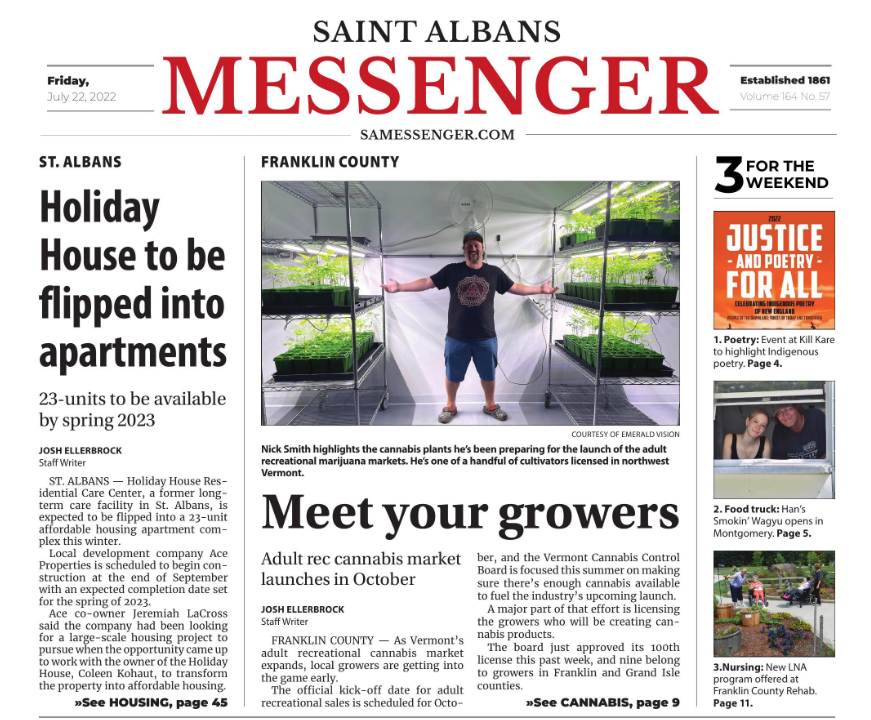 —Bridget Higdon, editor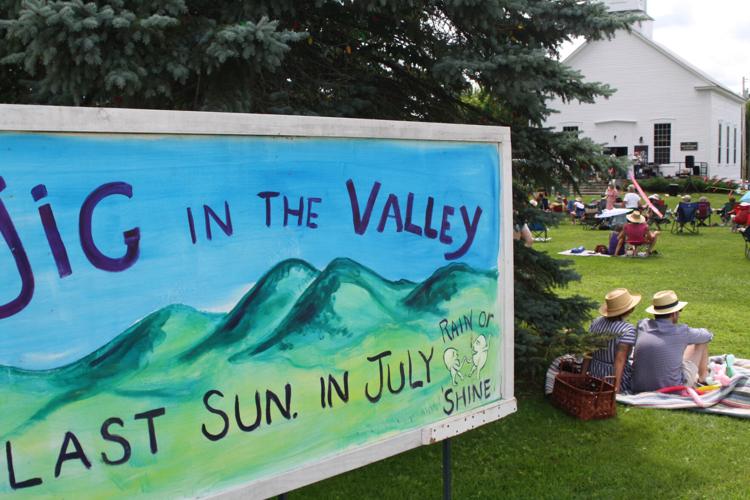 Event-goers lounge on the green of the East Fairfield Meeting House during the 30th Jig in the Valley July 31. Photo credit: Josh Ellerbrock
Sometimes good stories just fall into your lap—even on one of the first days of your career!
That is what happened with the feature below and our new reporter Rachael Siehs at the Tri-County News. I've been a professional journalist for about 43 years and this one was crazy even in my book.
At one of our Monday morning staff meetings we were talking about trying to find a new salesperson to hire and Tony from the Sheboygan Sun said (somewhat jokingly?) that we should hire this girl whom he encounters in the drive-through at the Kiel McDonalds. Immediately, several of us (myself included) said we absolutely knew who he was talking about as this girl just had the friendliest, most outgoing demeanor.
Well, a couple weeks later someone from our team indeed got a hold of her to bring her in for an "interview." While we were thinking "employment interview," we come to learn when she gets here that she was thinking "story interviewee." She was interviewed for possible employment. Pam Mathes then came into my office where I was working with Rachael on one of her very first days as a journalist. Pam explained the situation and said it sounded like this young lady might have a story to tell so I said to Rachael, "Well, let's go find out!" We did the interview together and found out she had QUITE the story to tell for a 20-year-old! We'll let you read it to see for yourself. Rachael wrote it up, I tweaked it a bit and we ran it in our Verve women's magazine, the Tri-County News and on our website/Facebook where it got a fair amount of attention along with some shares and comments.
Rachael and I didn't have this feature interview on our schedules that day but—but as any journalist will tell you—you just never know when an interesting story will come your way.
—Mark Sherry, editor
Tom LIndfors, who covers the city of New Richmond for the Star-Observer, wrote about a mother who led a fight to build a playground for her son who was born with Down syndrome. Tom captured the mother's love for her son, the frustrations she encountered and the thrills of making headway on the project. It is an excellent example of a reporter capturing the emotions of the subject he was writing about.
Sam Fristed found a story close to home. The Star-Observer recently moved into a new building in Hudson. Sam asked the question: What happened to the business that occupied the building previously? He learned that the business was a dog rescue operation that moved to a larger building. It is a good example of not overlooking stories in your own backyard … or in this case, in your own basement.
—Jim Johnson, editor
Thanks for reading! We'll see you in September.