How To Thrive In A Remote Job
Exciting news! OMG recently opened a physical office in downtown Hudson, WI. Opening a physical location is so important to us because in-person work still provides the best team relationships and socialized work experience.
However, remote work remains popular. During the pandemic, many companies transitioned to remote work to keep their businesses running. Soon enough, business leaders and workers began to realize that they don't need to be in the office to get their work done.
According to FlexJobs, 58% of people want a fully remote job post-pandemic, while an additional 39% want hybrid work. The main reason for wanting remote work is better work-life balance. Other reasons include fewer interruptions and more quiet, comfortability, and avoiding office politics.
A study with Mental Health America also found that people with access to flexible work (remote or hybrid) have improved mental health. Workers get to spend more time with family, have more supportive workplaces, and are more likely to make healthy lifestyle changes. 92% of these employees believe that flexible work has made or can make them happier.
With that being said, it takes effort to create an environment where you can thrive in a remote job. It can be more challenging to find a company that is right for you and maintain a connection with your colleagues. You must also find ways to stay motivated and productive.
Do you want to thrive in a remote job? Do you want to create success while working from anywhere? Keep reading below to find tips for thriving—not just surviving—in a remote job.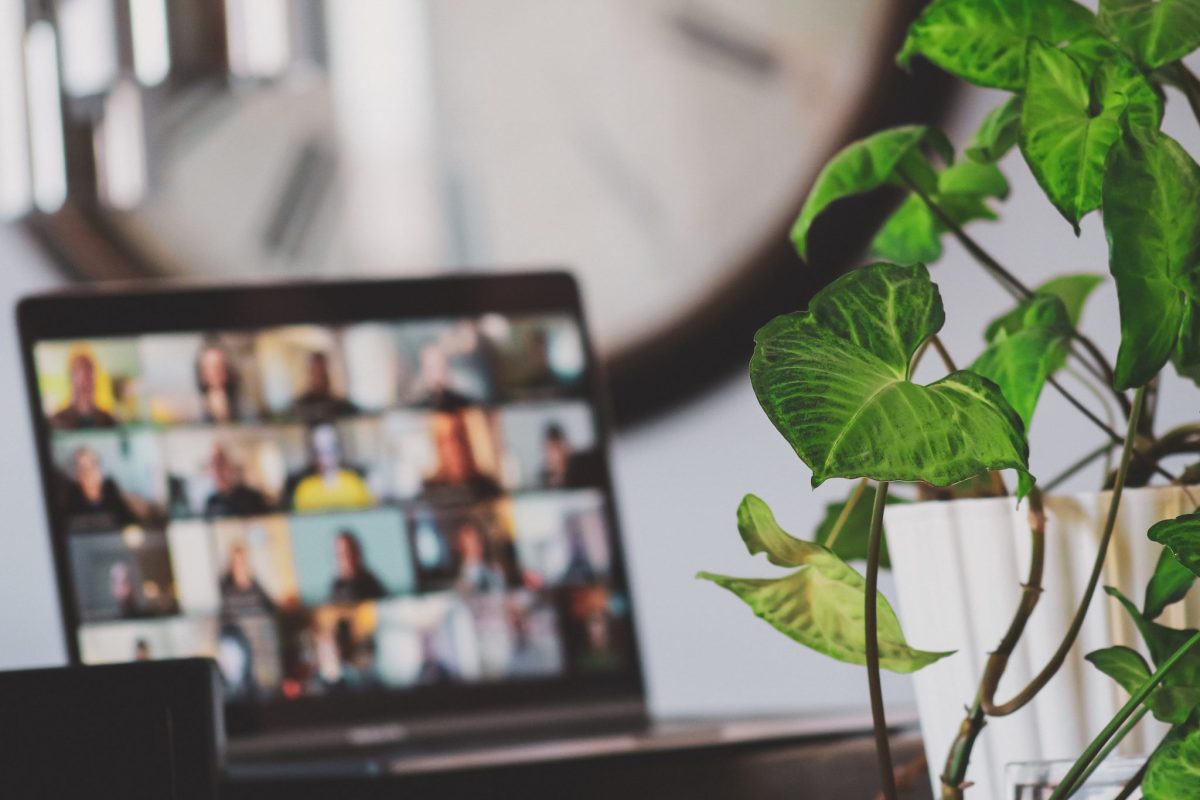 How To Thrive in a Remote Job

Get clear on what you want in a remote working environment.
The first step to thriving in a remote job is making sure you find the right remote job for you. It's important to understand what it is exactly that you're looking for in a remote working environment. Let the following questions guide you:
Are you looking for full-time, part-time, or contract work?
Do you prefer a strict 9-5 schedule, or do you want to have time flexibility?
Do you want a lot of communication with your colleagues? Or would you rather work more independently?
Do you want to work fully remote, or do you like the option of going into a physical location sometimes?
Knowing what you want from your remote job will help you find a remote job that's best for you.
One way to learn about what to expect from a remote job is to conduct informational interviews. Look for people who have remote jobs in your desired industry. Ask them about their experiences.
Informational interviews are a great way to learn motivation tactics, management styles, company expectations for remote employees, various types of company cultures, and more.
In addition to evaluating job opportunities, you should also cultivate some self-awareness. Before beginning remote work, you need to know whether you'll be able to meet deadlines on your own, keep yourself accountable, and have self-discipline. If you don't have these characteristics, remote work may not be a good fit for you.

Find the right type of remote job for you.
Not every remote job is the same, so it's crucial to do your research on remote jobs you're considering. Some good places to start are job boards and resources, such as Indeed, LinkedIn, and Glassdoor. These sites can give you information on the job as well as the company as a whole. Search for remote jobs by putting your desired industry or position in the search bar with the location set as "remote".
Indeed is a good resource for learning general company information, while Glassdoor lets you view employee reviews. LinkedIn provides information about the people applying for jobs, such as their skills and education levels.
Additionally, check a company's website and social media pages to get a feel for the company's culture and environment. It should be relatively simple for you to gauge whether you think you would fit in remotely. If you feel that the company is one that you would like to work for, go ahead and apply to one of their listings..
The interview process for remote work may be different from in-person work interviews. You may complete your interviews over the phone or via video chat. During interviews, companies may be looking for proof that you will be able to deliver work in a timely manner. You should give examples of your skills and work style to show how you align with the company.

Maintain regular communication with your company.
Communication is key to thriving in a remote job. If you don't check in with your superiors and colleagues, they won't know if you are completing your work or how your work is contributing to the company. On the other hand, if you're in a leadership position, you won't be able to lead or coach your team properly if you don't have regular communication with them.
Regular communication might look like the following things:
Weekly meetings with your team, colleagues, supervisor, etc.
Schedule daily 10-minute check-ins. These meetings can be used to review the main tasks for the week or day.
1-1 weekly meetings with your boss. Conversely, you can have them with your employees if you are a manager. If you simply need some motivation or accountability, you could also ask a colleague to have a daily informal video chat.
Direct messaging on a daily basis. Sign into your company's chat or direct messaging system. Programs such as Slack, Skype, or Google Chat are great for real-time conversations about projects and getting to know your colleagues.

Be realistic about where and how you get your best work done.
While some people work best in a formal office space, others prefer more relaxed environments. It's okay if you feel more comfortable working from your living room couch or a coffee shop. Trying to force yourself to work from a space that's not right for you will only hurt your motivation and productivity.
In addition to the physical environment, you should also be aware of other factors that affect your productivity. These might include:
Background noise, like other people or music
Snacks and drinks
Break frequencies and lengths
While everyone is different, there are some changes you can make to your workspace that may help you be more productive. For example, you may want to pick a place with plenty of natural light. Natural light has been found to reduce eye strain up to 51%, drowsiness by 56%, and headaches by 63%.
Next, furniture style and ceiling height can also have effects on your work rate and efficiency. According to Washington State University researchers, having indoor plants in your office space may increase productivity up to 12%. Other elements to consider include colors, clutter/organization, and personalization.
Take some time to experiment with different spaces and designs. Ultimately, you should choose an environment where you feel most comfortable and productive.

Create a consistent routine.
While some jobs may require you to work certain hours, most remote jobs have some degree of flexibility. Therefore, you likely have the ability to create a routine and schedule that works for you.
When setting up your routine, consider the following:
Do you work best in the morning or night?
How often do you need a break?
Do you have to attend any mandatory meetings? Or is there a best time for everyone to schedule meetings?
Do you need to schedule around any personal obligations that occur on a regular basis?
Setting boundaries between your work and personal time is also essential to being productive and creating work-life balance. Use a digital calendar tool (or a planner if you prefer pen and paper) to block off time for specific work tasks.
Once you figure out a schedule that works best for you, create a routine that you can follow every day. For example, set up a morning routine that motivates you, gives you energy, and creates a positive mindset for the day. And then follow that routine every day.
Working from home can bring many distractions. Having a schedule and routine that separates work from personal life can help you be more consistent.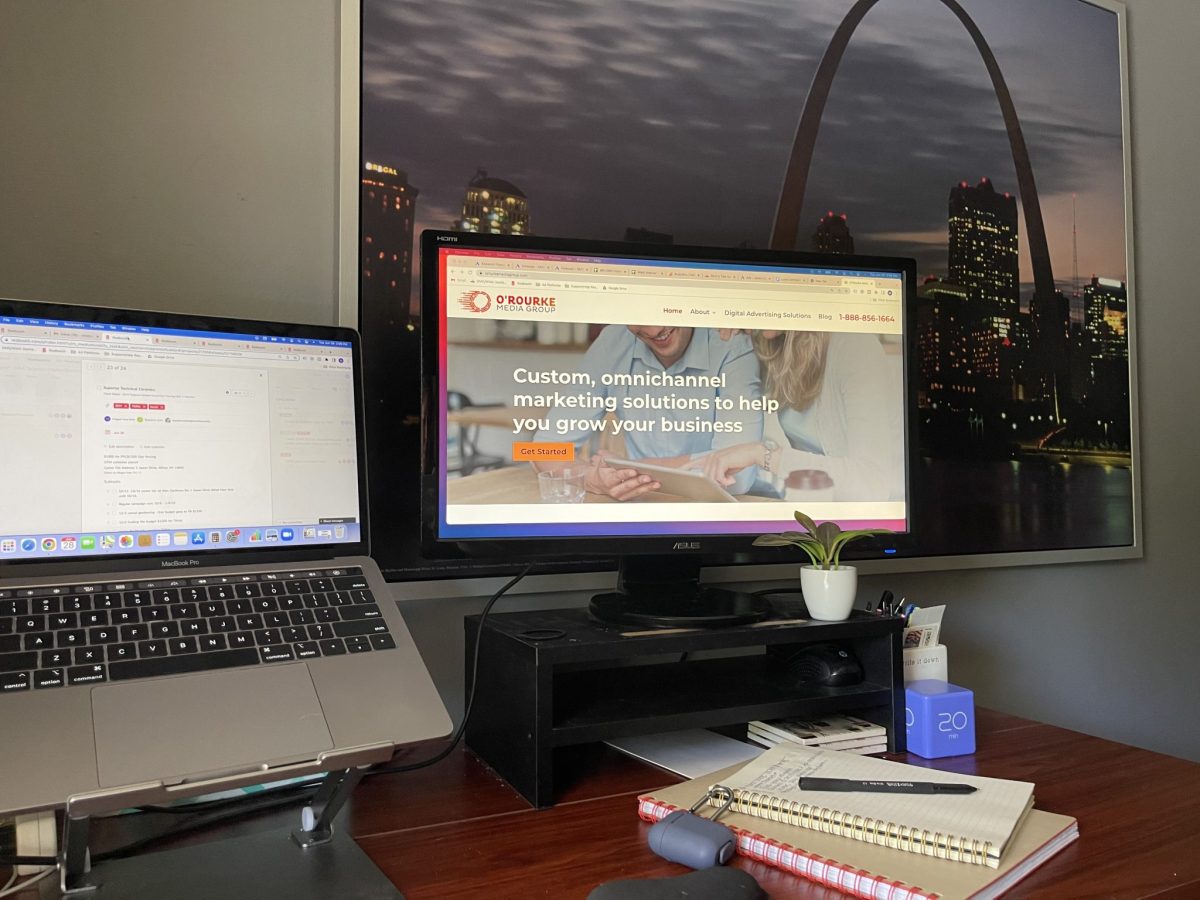 Real-Life Example Of How To Thrive In A Remote Job
To put remote work life into context, we want to share a real-life example of how to thrive in a virtual or work-from-home position. OMG's very own Digital Fulfillment Marketing Manager Megan Ivey discusses her experience as one of our virtual employees. Additionally, she offers recommendations on how remote and virtual teams can stay productive and collaborate successfully.
Meet OMG's Digital Fulfillment Marketing Manager Megan Ivey
Megan joined the OMG team in 2021 while living in St. Louis, MO. She was working in marketing at another company when her friend and colleague who had moved to OMG mentioned that OMG was hiring.
Megan was happy in her current role. But the second she got on the phone with OMG CEO Jim O'Rourke, she knew OMG was special. "Jim is so great. I got on the phone with him and had never met him before. He was so intuitive, energetic and accessible. I made the switch," she says.
As OMG's Digital Fulfillment Marketing Manager, Megan oversees her team's fulfillment of digital marketing and advertising services for local business owners and the local newspapers that OMG owns. While Megan manages her team's work, she stays close to every project. "I like to be in the weeds," she says. "At OMG, we don't have people managers. Everyone works along with us."
Before OMG opened their office in Hudson, most employees were remote. Today, more people have returned to office life. However, Megan still works remotely with her team–and quite successfully. "Remote work offers me a lot of opportunities I may not be able to have in person," she says. "I get to connect with people all over the country and have more client interaction because we've adapted to technology."
Megan's Tips for How to Thrive in a Remote Job
Tip #1: Use Video
As Megan argues, "I think video is an important one. I started working remotely right at the start of the pandemic at a previous company. We just used phone calls or just stared at blank screens. There was no interaction. At OMG, we wanted to make sure we have that in-person interaction. We try to set up video meetings or FaceTime calls when possible."
Tip #2: Get to Know Your Colleagues
"Sometimes it's just about being personal," Megan says. "It's a little bit of a bummer that we can't have a happy hour. Our relationship building is work-focused. Maybe make sure at the end of a meeting you talk about your life and not just work."
Tip #3: Schedule Regular Check-ins
Megan rightly points out that "people are in a lot of meetings." She encourages remote workers to caution against filling up their own or their colleague's schedules with too many meetings. But to stay accountable, Megan and her team have a weekly meeting, along with individual weekly meets to "go over their accounts, solve problems and optimize strategies." Additionally, "We're always one call, text, Google Meet, or Google Chat away from each other," says Megan.
Day-in-the-Life of Megan
Morning
I start my workday between 8-8:30am in my home office. When I began working remotely, I tried almost every work setup. I worked at my kitchen table for three months. Now I have a dedicated office space in my guest bedroom.
When I sit down, I check my inbox and make a to-do list for the day on the notepad that sits next to my computer. I begin assigning projects and checking in with my team. It's common for an unexpected project or meeting to come up, so I try to allow for some unpredictability in my schedule. Depending on the day, I may work at a local coffee shop with other remote workers.
Midday and Afternoon
Around noon, I'll eat lunch, which typically consists of something I prepped over the weekend or leftovers from dinner. That's definitely a perk of being remote—access to my own fridge. I might take a 15-minute walk around my neighborhood with my Boxer Blue Heeler dog Piper. After that, I'll continue tackling my to-do list and respond to anything my team might need.
Evening
My workday ends around 5pm. My fiancé does not have a remote job, so while he commutes home, I typically do a few household chores and walk Piper again. Or some days if the weather is beautiful, I'll walk to a city park immediately after work.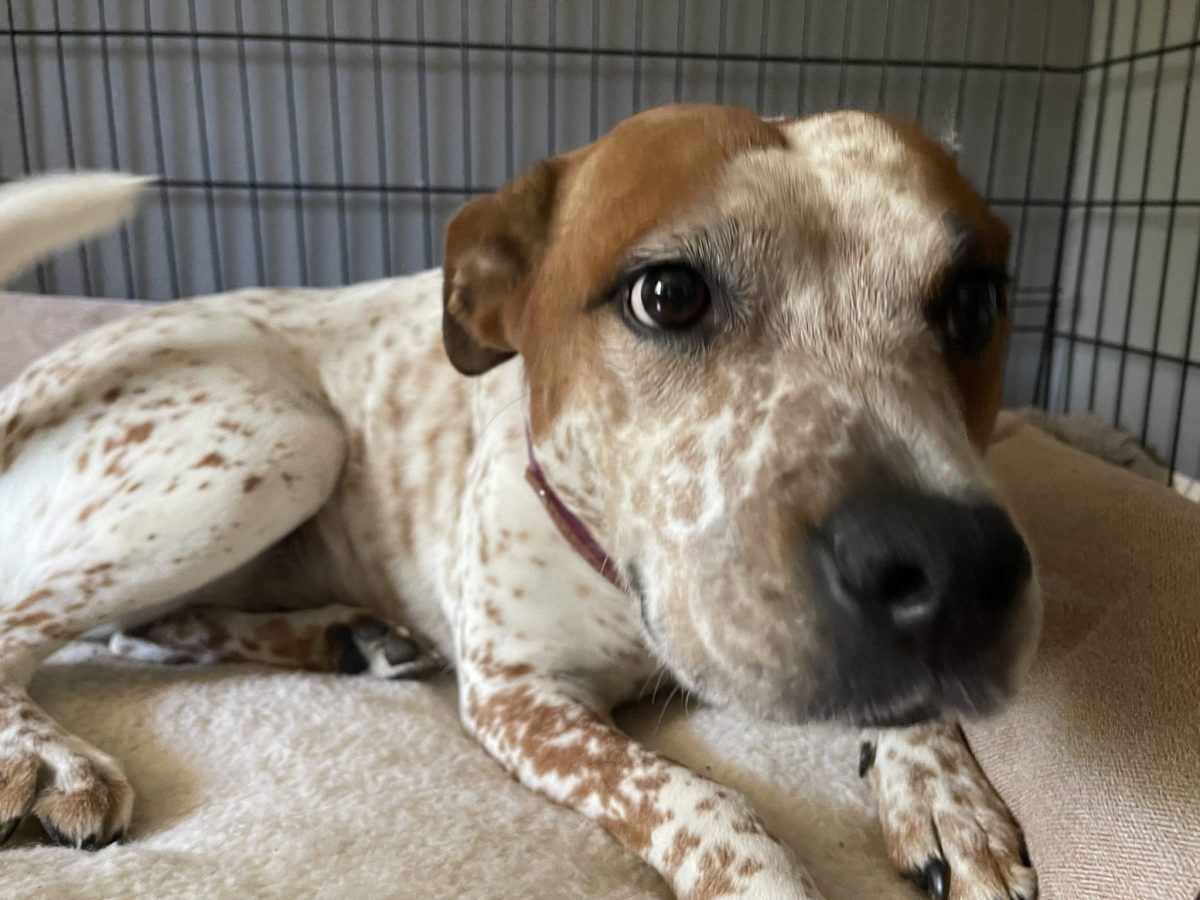 Thrive In A Remote Job At OMG
Looking for a remote position in the digital marketing space? "OMG is expanding the fulfillment team!" Megan says. "We're looking for somebody who wants to be remote. We run Facebook and Google campaigns. This is a great way to learn the tactical and technical elements of digital ads. We provide good training and this is a growth opportunity."
If you're wondering what kind of person would thrive in a remote job at OMG, here's what Megan has to say. "I think it's a person who doesn't need a lot of direction. They must have authority over projects or ideas. They need to have a voice and want to vocalize it. Whether you're in sales or in fulfillment, you need to be a self-starter and have the motivation to work through problems."
On the other hand, someone who might not thrive at OMG is "someone who isn't curious and looking outside of what's there," Megan says. We have a lot of creative campaigns. We need someone who is creative too."
Want to learn more about OMG's remote job opportunities in digital marketing and related areas? View our current openings.
O'Rourke Media Group operates in six states with a full-service digital agency and 24 publications and hyperlocal websites. Our team of marketing experts specialize in providing customized digital marketing strategies and solutions for any size business and budget. We're also a hyper-local community news publisher with an engaged audience of print subscribers, digital subscribers, website page views, social media followers, and email newsletters.